A personal pet peeve of mine is that many people in the technology business do not have mastery of even the basics of marketing theory.
I still have not met a technology marketing person that could correctly tell me the difference between a segment and a submarket.
Here are my definitions of the two terms:
submarket: a distinct group of customers
market segment: a group of customers that may be addressed by the same marketing mix
marketing mix: an offering to the market composed of a product or service and its associated price, promotion methods, and method of distribution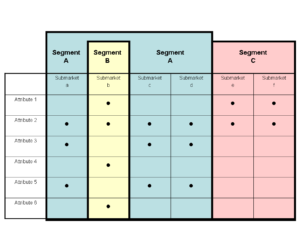 We start our market segmentation above by simply listing the different submarkets in columns. Any definition for submarkets are fine, as long as the members of each submarket are distinct from those in another. Next, we list the range of product or service attributes that we may want to offer. Then we populate the table by noting what attributes are applicable to each submarket. What we discover is that often certain product attributes are applicable to multiple submarkets! Submarkets that may be addressed in by the same product attributes are what we call segments. We can assign a name to a segment that encompasses each its submarkets.
Most often what happens is when I ask someone what a segment is, they recite a list of submarkets. When I ask them why those are segments versus submarkets, they say "everyone knows those are segments". This can limit one's thinking and prevent insights into the right marketing mix for the market.
I'll discuss some ways to use segmentation to generate new ideas in later posts.